In June, I started featuring a client of the month.  Well, this month's feature is one of the major reasons I decided to start this fun little share-fest.  This one is such an ideal client that I just needed to figure out a way to talk about how great my clients are.  And, so, without further adieu, let me introduce one of the greatest clients ever . . . The Workplace Therapist.
I began working with Brandon Smith a few years ago and, right off, we developed a strong working relationship.  He's just one of those clients I clicked with immediately.  We have a smooth work process and creativity flows between us easily. So, when it came time to launch The Workplace Therapist in January of 2011, I couldn't wait to get on board.
Brandon is a therapist, professor, consultant and radio host who brings an upbeat, witty approach to the challenges of workplace health and dysfunction.  With 94,365 hours of our lives spent working, he thinks that time should be well spent.  And, so — curing dysfunction from the cubicle to the corner office — The Workplace Therapist was born.
The Logo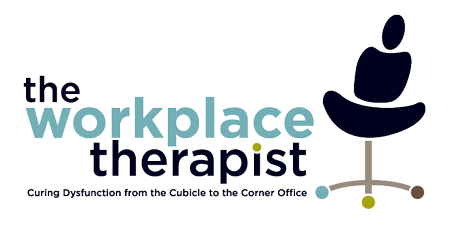 Some Basic Necessities
After establishing the logo and color palette, we got Brandon set up with business cards, a media kit, andFacebook and Twitter Pages. (I recommend following him on Twitter and Liking him on Facebook because he posts, not only his own articles, but interesting and helpful stuff from around the web.)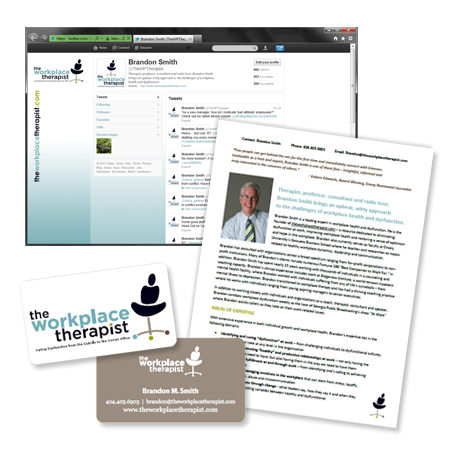 The Mack-Daddy: The Website
The site is all about helping you meet the changing rules of work today. Specifically, tackling three pressing questions that we all face in our careers and lives:
What do I want to do with my career and life?
Who do I want to do it with?
How can I do it better?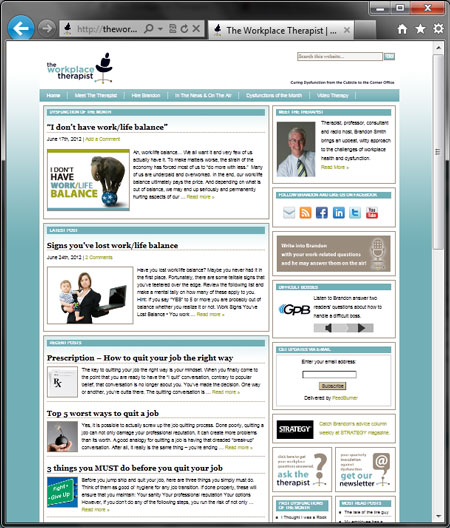 TheWorkplaceTherapist.com features a Dysfunction of the Month along with supporting articles sharing loads of funny and useful insights on how to identify and cure your workplace dysfunction.  (This month is "I Don't Have Work/Life Balance" check it out here.)
On top of that, you'll find weekly GPB Radio segments where Brandon and Joshua Stewart discuss workplace issues and answer listener questions.  Plus, there's a video therapy page that gives you access to helpful video tips (such as "The 5 Questions" you need to answer to get a sense of purpose, "The 3 Critical Conversations" that anyone needs to have with their boss, and "Developing Connection with your Work").
Learn more and check out our design work at TheWorkplaceTherapist.com.
And, follow me on Twitter and Facebook to get more of my thoughts on what's so great about The Workplace Therapist.