Yes, after locating my hotel, my first stop in London is . . .
wait for it . . . if you know me, you really ought to know:
STARBUCKS
To be honest, I may not know where anything else is, but I made sure to locate the nearest Starbucks, even before I left the U.S. (Just in case, after the long flight, my Starbucks radar experienced any jet lag malfunction.) It is really fascinating to feel like a stranger in a place I know so well.  For the most part, it is the same as what you would find in any American city (as a matter of fact, "Georgia on My Mind" was playing, while I was there, so it was ironically similar to being in Atlanta). But, the London version has many more food selections . . . and red, double-decker buses regularly passing by.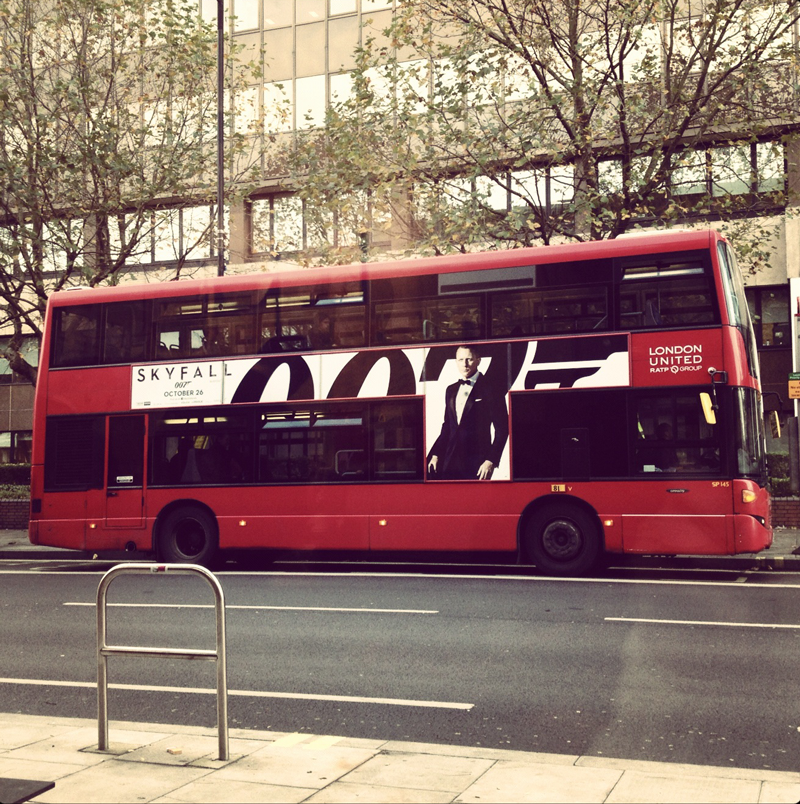 It was great fun to work facing the window, so that I could see these British delights.  Along with reminders to see the latest 007 movie, an ever-changing cast of characters passed across the sidewalk-stage. I saw one guy who looked very much like a very scruffy, overgrown Anthony Hopkins. I don't judge, it could be Zorro under there!
While this London Starbucks does offer a great variety of food, I needed something more substantial.  A quick internet search revealed a vegetarian restaurant that wasn't too far away, so after packing up my laptop, I headed that direction. Along the way, I saw a fox . . . in the middle of London . . . in front of an office building . . . just walking around like that was a totally normal place for a fox to be.  I would like to say that I took a photo that I could share, but all I could do was watch curiously, realizing that I've never before seen a real, live fox, in person.
After Mr. Fox scurried away and I made it to 222 Veggie Vegan for dinner, I realized a super-important, never- forget-it travel rule. Always carry a book!!!  In order to lighten my load, I had dropped my laptop back at my room. So, there I was, alone (literally, because there were no other customers yet, as I arrived the second they opened), with nothing to do but wait for my food.  Well, it was worth the boring wait.  Because when my Girl with the Dragon Tatoo lookalike waitress brought my dinner, I enjoyed the creamiest, yummiest VEGAN pumpkin pine-nut risotto ever. I know where I'll be having dinner tomorrow.