With a tourist map (from the hotel) in hand, I decided to walk around Rome today. I have no formal agenda. I have no specific destination, I simply plan to walk. Hopefully I will find my way to a few well-known spots like the Trevi Fountain or the Spanish Steps (spoiler alert – I won't find them today), but I am not attached to anything in particular. And so I begin, departing from nearby Piazza del Risorgimento and walking past Castel Sant'Angelo, then, along the river to see some market vendors beside the road.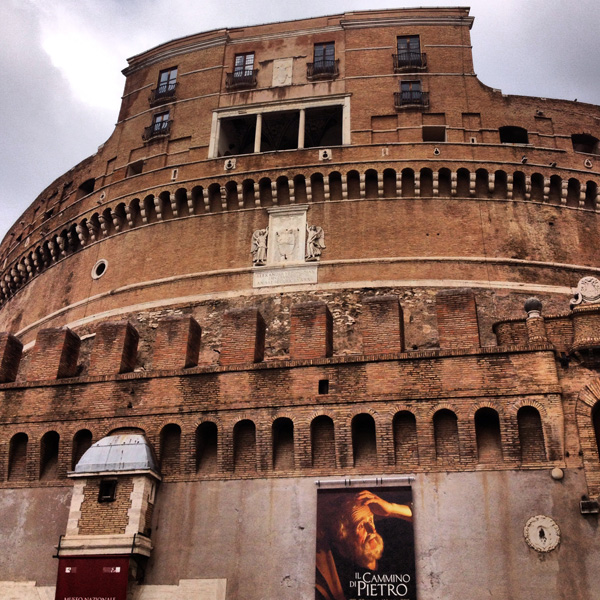 I cross the river and wind my way through the tiny streets of Rome, accidentally happening upon Campo de'Fiori, where a market is in full swing. (It's no surprise that this market has pasta!)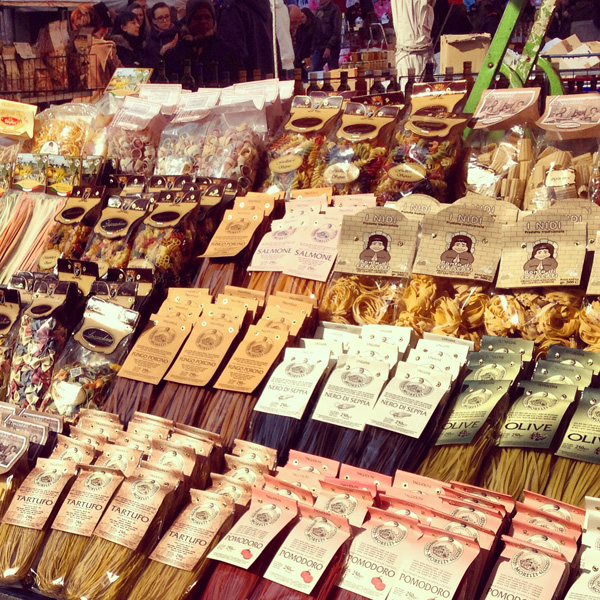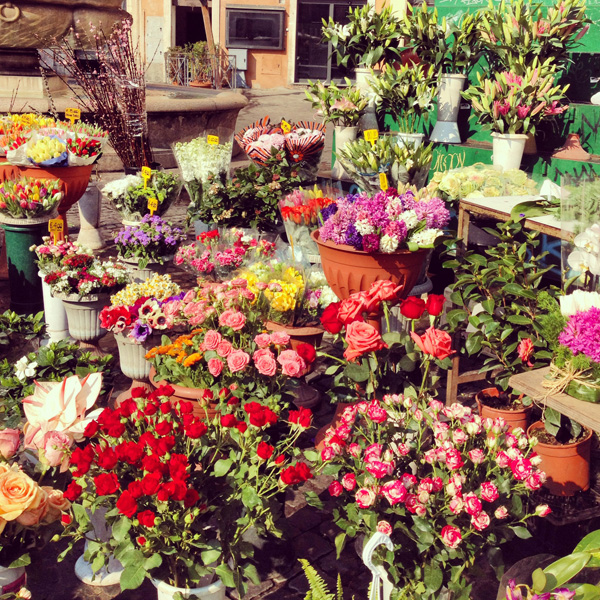 Around lunch time I found myself in Piazza Navona and decided to take a rest and have some lunch. As I sit at one of the outdoor tables, my young waiter asks where I'm from. His response to my answer:  "Ah, you're from Atlanta! The place of hip hop." Fo' shizzle my Italian homey.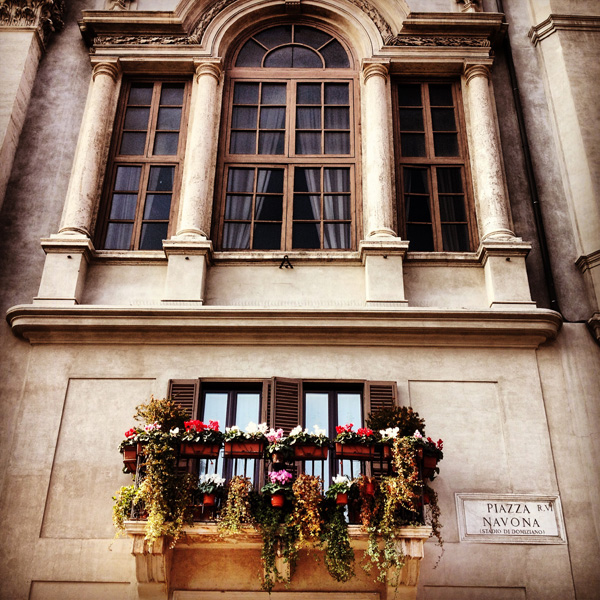 As I sat, eating my lunch, looking out over the piazza (the first shot in this post is from my lunchtime vantage point), I began to feel enchanted by the whole scene.  Piazza is just the Italian word for "square," but they seem to know how to do it right. Each piazza with its own personality. Homes, shops, restaurants, a church or two, probably a couple of fountains, likely some street vendors (artists, food, florists, etc.) — all in a quaintly-set slice of the city.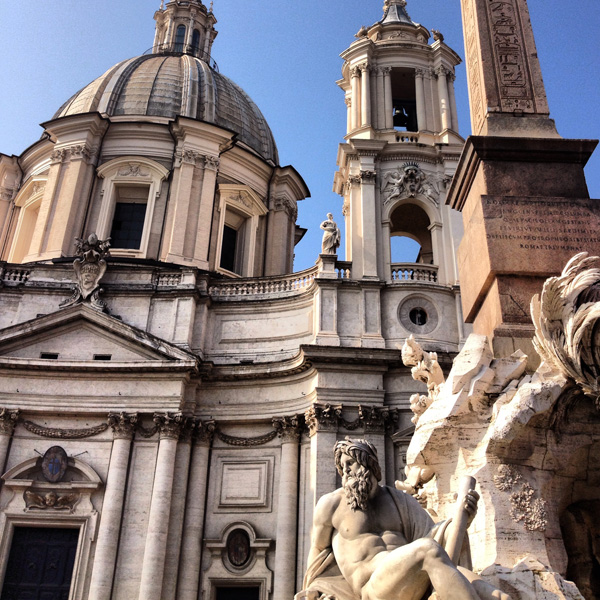 If I would like a homebase that has the green space and sea views of Paseo del Parque (Malaga), and the abundance of fresh, delicious, moderately-priced food of the Market in Heraklion (Crete), then I'd like to add-on to the request, that they please be adjacent to my own, personal piazza.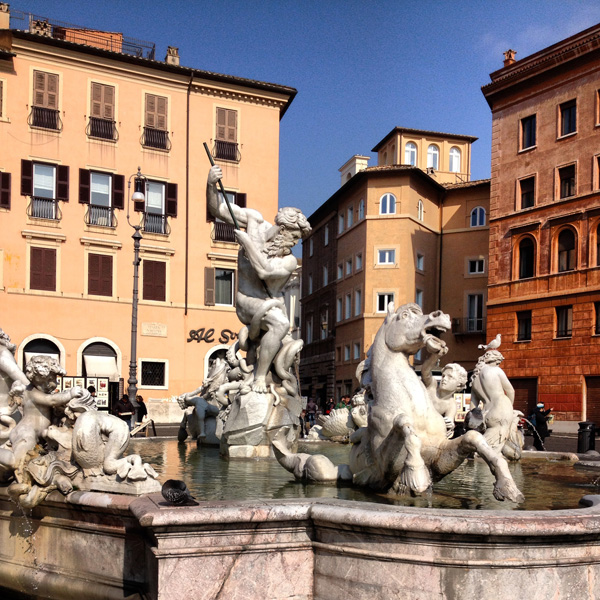 As I ate my lunch at the outdoor café, I understood some of the conversations around me. A Spanish couple, a Greek family, and a French duo. I'm in awe of my Italian waiter who freely conversed with all of us — smoothly changing languages, as needed. This feels like a challenge.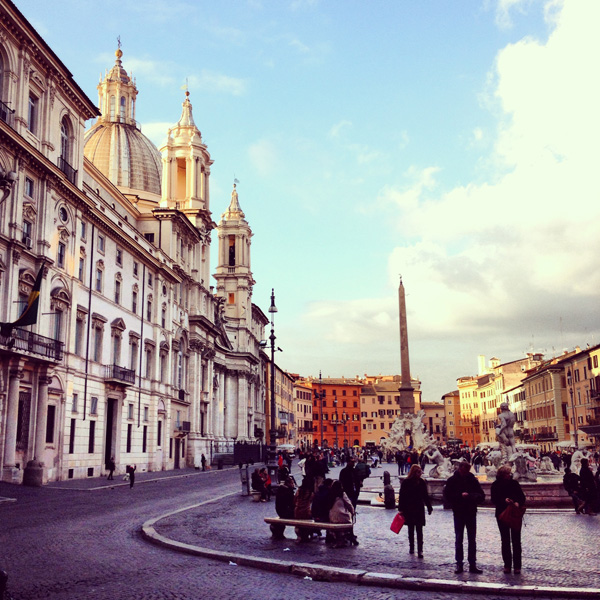 I used to tell myself that I wanted to be fluent in Spanish (useful), Italian (beautiful), and Greek (sentimental) by the time I turned 30. Well, I am 40 now, and not fluent in any of them. Truth be told, I did nothing to become fluent (although I did have several start/stops with Spanish). Work, volunteering, raising my daughter — all of these took priority. But, now, I think the time is right to jump into a new language. Hmmm . . . where will I begin? Which language will be first? A plan is beginning to hatch.