I'm a huge lover of Daylight Savings Time.  Though — just like everyone else — I hate losing that hour of sleep, I adore having the sun stay with us later in the day.  So, this year, since this event took place on my birthday weekend, I thought it was appropriate to celebrate this first sign of spring!
So, I donned my new demi apron (my b-day gift to myself) and hosted about ten of my girlfriends for a "Spring Ahead Soirée" at my place.  We had light fare and pretty pink mocktails followed up by yummy mini cupcakes and Stacey's awesome pear tart.
It was a great way to get together, chat about fun stuff (posh doggy bowls, media appearances, cute baby guests, travel desitnations), and enjoy each other's company while looking forward to the new season.  (It was also a great chance for me to show off some of artwork that I've just recently had the chance to display.)
Here's a photo recap followed by the recipes:
Displayed the evening's menu w/my cute magnets from The Hip Hostess…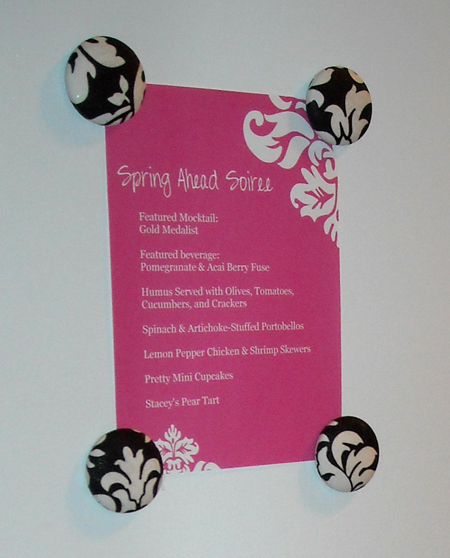 Tasty bites and marvelous mocktails…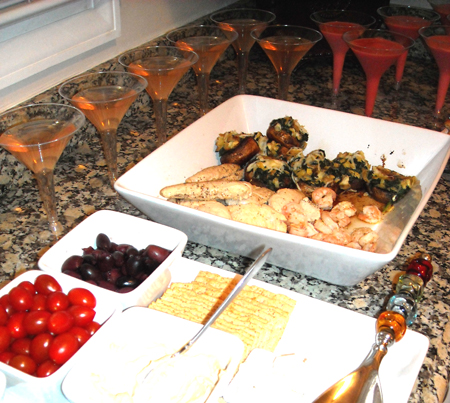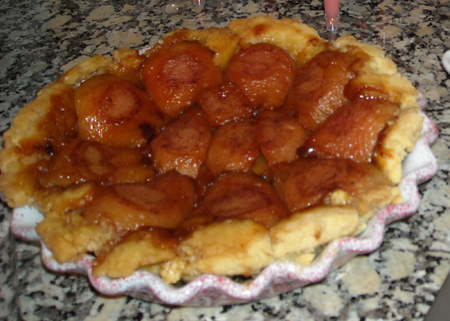 Stacey's Pear Tart
Great gal pals…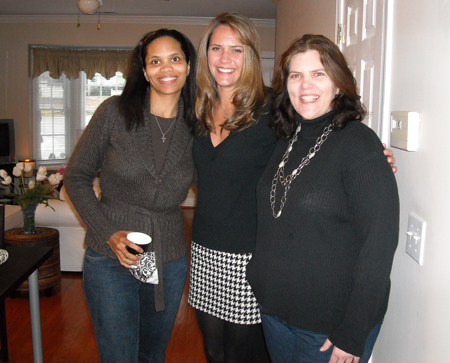 Amber (Cafe Physique), Lesley (lil' ol' me), and Angela (The Curvy Life)
Newly displayed artwork…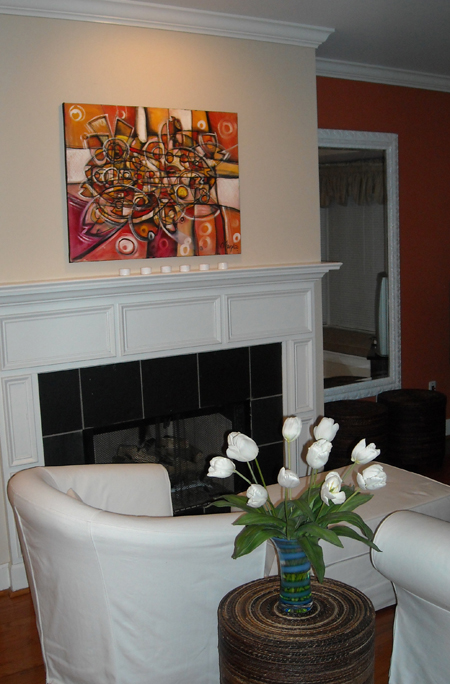 Original oil on canvas by Peruvian artist Oswoldo Gonzales
(from my awesome client Leesteffy at Synergie)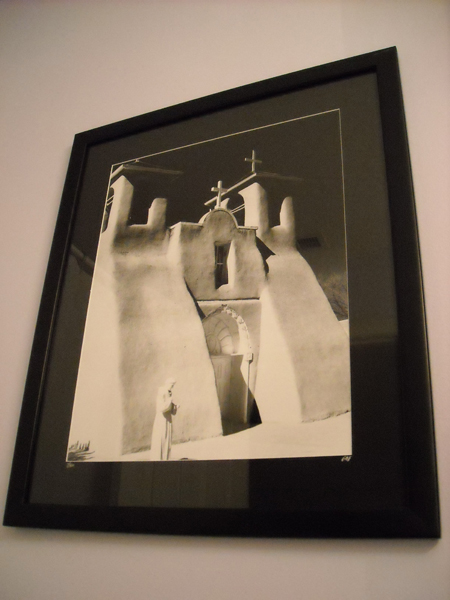 Limited edition print "San Francisco de Asis Mission"
by Virginia-based photographer G. M. Howerton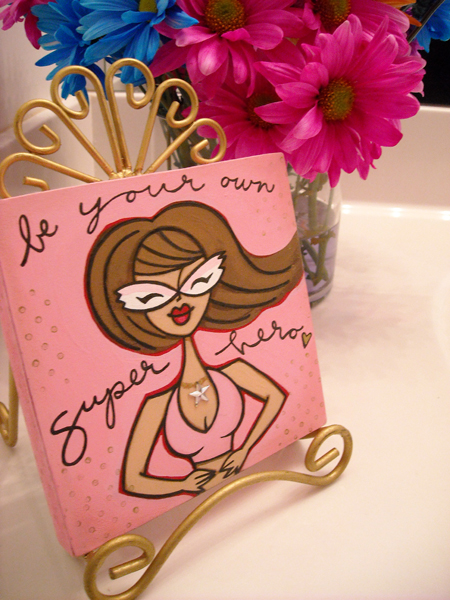 Itty bitty original painting by Canadian artist Cynthia Frenette
The Recipes
Featured Mocktail:  Gold Medalist
1 oz. frozen strawberries
1/4 ripe banana
1/2 oz. grenadine
3 oz. pina colada mix
1-1/2 cup crushed ice
Blend all together.  Serve in pretty glass.  Garnish w/strawberry & banana slices.  Serves 1 or 2 (depending on the size of your pretty glass).
Lemon Pepper Chicken Tenders (I did shrimp too)

[I heart Rachel Ray.  This is one of hers from her 30-Minute Meals Get Togethers book (I highly recommend it).]
Zest and juice of 2 lemons
1/3 cup extra virgin olive oil
2 lbs chicken breast tenders (20 pieces)
Salt and coarsely ground black pepper, to taste
20 6-inch bamboo skewers
Heat a large nonstick skillet, grill pan, or indoor grill to medium-high heat.  In a shallow dish, combine lemon zest and juice with evoo.  Season chicken with salt.  Pour half of the marinade over chicken and reserve half.  Turn chicken in marinade to coat lightly.  Cook tenders in 2 batches, in a single layer in a very hot skillet or grill, 3 minutes on each side, while basting occasionally with reserved marinade.  Transfer to a serving platter, place skewers alongside.
Spinach- and Artichoke-Stuffed Portobellos

[Another Rachel Ray – same book: 30-Minute Meals Get Togethers.]

Portobellos:
2 teaspoons extra virgin olive oil
5 medium portobello mushroom caps
Salt and freshly ground black pepper, to taste
2 tablespoons balsamic vinegar
Stuffing:
1 tablespoon extra virgin olive oil
3 cloves garlic, chopped
1 small yellow onion, chopped
1 pound fresh spinach, coarsely chopped
1 can (15 oz) artichoke hearts in water, drained well on paper towels
Salt and freshly ground pepper, to taste
4 to 6 sprigs fresh thyme, leaves stripped and chopped (about 2 tbs)
3 slices Italian bread, toasted and chopped into small cubes
1 cup chicken or vegetable stock
1/4 cup grated parmesan cheese
6 oz. fontina cheese, shredded
Preheat over to 400 degrees.
Prepare the mushroom caps:  Heat a large nonstick skilled over medium-high heat.  Add a drizzle of evoo and the mushroom caps.  Season caps with salt and pepper, and cook 3 minutes on each side.  Add balsamic to the pan and allow the vinegar to cook away as it coats the caps.  Transfer balsamic-glazed caps to a cookie sheet.
Make the stuffing:  Return pan to the stove and add evoo, garlic, and onion.  Saute onions and garlic, 3 minutes; add spinach to the pan and let it wilt.  Coarsely chop artichoke hearts and add to the spinach.  Season veggies with salt, pepper, and thyme.  Add chopped toast and dampen stuffing with chicken or vegetable stock.  Combine stuffing and sprinkle in a little grated cheese.  top each mushroom with 1/5 of the stuffing and sprinkle lightly with a few strands of fontina.  Set mushrooms in oven for 5 minutes to set the mushrooms and melt the cheese strands.  Cut each mushroom into 4 pieces and transfer to a serving dish.
Stacey's Practically Perfect Pear Tart

My friend and client Stacey (of Where2NowMag.com) made and brought a super yummy pear tart.  It was the first pear tart I've ever had and it was soooo good.  Stacey adapted this recipe from the New York Times (just adding cinnamon (sprinkled generously) and vanilla extract when she put the pears in the pan).