Lori Sullivan has many interests and passions. As a strategic thinker that loves brand and marketing strategy, she's also passionate about the environment and lessening her "impact" wherever possible. All of these aspects – including branding, green-living, recycled jewelry, and good books – come together at the newly launchedLoriJSullivan.com.
Lori and I began working together in 2009 to create a brand identity for One Shade Greener – her eco-consulting company that specializes in designing strategies for businesses and homeowners who are looking to lessen their impact on the environment.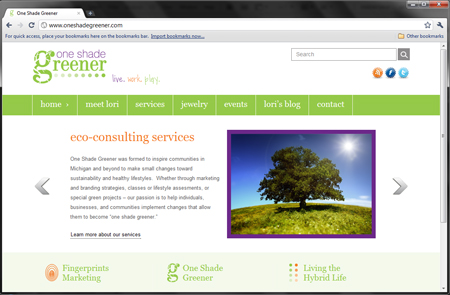 Then, last year, we brought to life Fingerprints Marketing – her branding "arm" that guides companies and individuals to discover and market their unique personality – the "Fingerprint" of the organization.  It was important when working on each of these entities to keep the color palette and style consistent – knowing that each piece would circle back around to where they originated – LORI.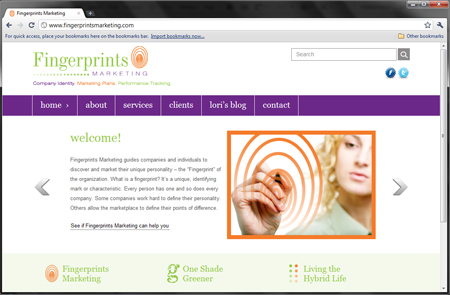 So, now we've brought the vibrant colors and playful feel to a suite of websites that connect all the dots of Lori J. Sullivan.
Learn more and check out our creative work at LoriJSullivan.com.
To see more samples from K-Leigh Creative, visit our Gallery at www.kleighcreative.com/gallery.html.