Málaga is the birthplace of Pablo Picasso and of Antonio Banderas. While it is hard to avoid knowing about Picasso — as they have many landmarks, shops, and museums dedicated to him — there is just one place where I've encountered Banderas consideration — Teatro Cervantes.
This performance venue is just a two minute walk from my apartment, so I see it on a daily basis.  Often people congregate in the square in front, just to meet up with friends or eat their lunch. One particularly quiet day, when passing by, I noticed a small tour group sitting on the steps.  The tour guide was discussing the landmark, so I walked very slowly (not strange in Spain) and eavesdropped on his presentation.  I learned that Antonio performed here as a teenager and that while he rarely returns to Málaga (typically during the mask-wearing festivals, as to be in disguise), he continues to support the theater to this day.
Aside from these bits of Antonio trivia, I noticed that The Nutcracker on Ice was playing. With my daughter's birthday just a few days away, I decided that would be a fun gift, and went in to get the tickets.  It turned out that we were in the second to last row in the balcony (which is bleacher seating), and of course, it was freezing (because of the ice), but we had a great time. Jasmine had forgotten how much she liked The Nutcracker, when she first saw it in Atlanta, as a child. Well, it all came rushing back to her and she was equally as enamored this time.  It was a great show.  I think this bit, from one of the reviews, sums it up nicely:
"Impressive leaps and turns, sophisticated costumes, sumptuous scenery, amazing special effects and a company of professional skaters, professionals who have more than 250 medals among them. These elements are brought together to give a version of one of the most famous and widely-seen shows in classical ballet; one that is popular all over the world, particularly during the Christmas period."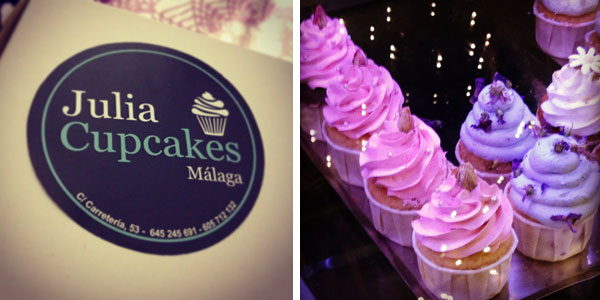 No holiday birthday fun is complete without some sweet, baked goodness. It's no surprise that I located the nearest cupcake shop within my first couple of days in Málaga. So far, the chocolate are the best. I am willing to suffer through and try them all, during my time here, so that I can adequately advise future visitors. I am really selfless like that.
After cupcakes, a little girl — I would guess to be about age 7 — walked up to me on Calle Granada and put a sticker right on my chest. It's a colorful little star that displays the perfect Christmas message:  "Jesús nace para todos." (Jesus is born for everyone.)
¡Sí, realmente. (Yes, indeed.)