As I mentioned in last month's post Crazy for Daisies, I'm making an effort to incorporate things into my routine that make me happy and nourish my soul.  One of those things is entertaining.  I love to prepare the place, and food, and atmosphere for friends and family to come and enjoy.  So, when I had the chance to host my first small get-together at my new place, I jumped at it!
A few fellow entrepreneurs and I get together each month to discuss our businesses, brainstorm ideas, and give each other support.  Since one is a vegetarian and one is a serious soup lover, I thought it would be the perfect opportunity to try out a recipe I saw in the February issue of Yoga Journal for "Green Soup with Sweet Potatoes."
So, I grabbed my canvas shopping bag (from artist extraordinaire, Cynthia), jumped in the car, and headed over to the local farmer's market to pick up all of the fresh ingredients (including three things I'd never bought before – kale, chard, and sweet potatoes).  I came home, chopped, diced, sliced, squeezed, and cooked up my Green Soup (all of the prep and cooking took a couple of hours).  Along with the soup, I rounded out our lunch with some garlic toasts (which, by the way, were totally yummy dropped into the soup), and sliced cucumbers with humus on top.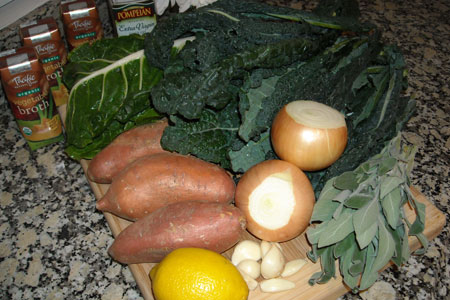 We all really enjoyed a healthy meal and great company in the middle of a hectic work-week.  (Note: my closet full of board games was spotted on the way out, so . . . I feel a game night coming on!)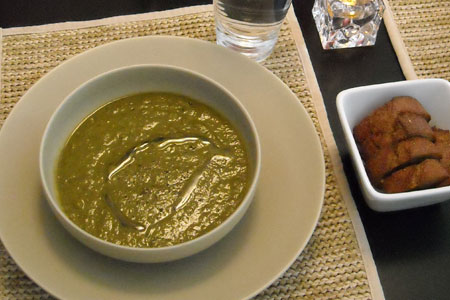 Green Soup with Sweet Potatoes
Makes 4 to 6 servings
2 tablespoons olive oil, plus more for garnish
2 yellow onions, chopped
Sea Salt
1-1/4 pounds sweet potatoes, peeled and diced
3-1/2 cups water
2 to 3 tablespoons chopped fresh sage leaves
1 bunch kale
1 bunch green chard
8 cloves garlic, peeled
3 cups vegetable broth
Freshly ground black pepper
Fresh lemon juice
1. Heat olive oil in a medium pot over medium-low heat. Add the onions and a pinch of salt and stir frequently until the onions are soft and golden brown, 30 to 40 minutes.
2. Meanwhile, place the sweet potatoes in a large pot with 3-1/2 cups water, 1/2 teaspoon salt, and the sage.
3. Wash the kale and chard, trim away the tough stems, and chop. Add to sweet potatoes along with garlic and vegetable broth. Cover and simmer gently for 20 minutes.  Add the onions to the soup and let cool slightly.
4. Puree the mixture in a blender, in batches, and return the pureed soup to the pot. Season to taste with salt, pepper, and lemon juice. To serve, drizzle olive oil over individual bowls of soup.